Junior-Euromat 2012
23 July 2012

to

27 July 2012
Université de Lausanne (UNIL), Amphipôle, CH-1015 Lausanne
Young materials scientists learn about materials science in other countries
JUNIOR EUROMAT has reached its 11th birthday. In the framework of this very successful series organised for young materials scientists, with events already biennially held since 1992, the Federation is sponsoring the event from 23-27 July 2012.
JUNIOR EUROMAT offers attractive opportunities to young materials scientists, constituting a wide-ranging tool for the integration in materials science and engineering. The symposium is intended to reflect the informal atmosphere of a summer school.
Who should attend?
The symposium will focus primarily on Master's and PhD students. There is, however, no limitation on the "categories" and ages of participants. Any professor or industrial representative will be welcome.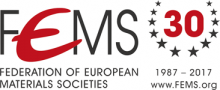 FEMS members - log in to view discount codes for FEMS events