FEMS Materials Science and Technology Prize 2017 awardee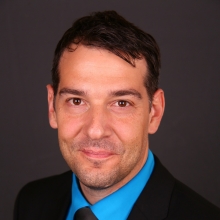 Prof. Andrés-Fabián Lasagni
Technische Universität Dresden, DE
Andrés F. Lasagni received his M.S. degree in 2002 in Chemical Engineering from Comahue National University (Argentina). From 2003 to 2005 he carried out his PhD at the Universität des Saarlandes (Germany) and in 2007-2008 he conducted a postdoctoral stay at the Georgia Institute of Technology and the University of Michigan. Since 2008 he was group leader at the Fraunhofer IWS and since 2012 is professor at the Technische Unversität Dresden (Germany). Andrés Lasagni is author and coauthor of more than 150 publications and has been awarded several prizes including the German High Tech Champion in Photovoltaics 2011 from the Ministry of Education and Research (BMBF), the Green Photonic Award 2015 from the International Society for Optics and Photonics (SPIE), the Masing-Gedächtnispreis 2012 from the German Society for Materials Science (DGM) and Fritz-Grasenick-Prize from the Austrian Society for Electron Microscopy. Recently, he has received the Reinhart-Koselleck Grant (1.3 M€) from the German Research Foundation (DFG) to enable outstanding researchers to pursue exceptionally innovative or higher-risk projects.
See award photo and the abtract of his lecture at EUROMAT 2017 on the news page.
His presentation can be downloaded here.