2023 FEMS General Assembly
Posted by Federation of European Materials Societies (FEMS) on 20 July 2023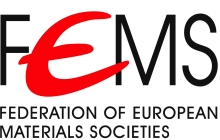 Members of the FEMS Member Societies are invited to the 2023 FEMS General Assembly.
The meeting will be held during FEMS EUROMAT 2023 on Tuesday 5 September at 14:30 CET (Room SH 2.107, Seminarhaus). Online attendance is also available for those unable to travel to Frankfurt.
Agenda
President's welcome
Apologies for absence, Adoption of the agenda, Minutes of the General Assembly held on 21 July 2022
Preident's Annual Report
Annual financial report by the Honorary Treasurer & Presentatio of the budget for 2024-25
Belgian UBO register
FEMS Elections (FEMS Vice-President & FEMS Board members)
FEMS EUROMAT 2023
FEMS Junior EUROMAT 2024
FEMS EUROMAT 2025
Anny other business
Date of next meeting
Although attendance is open to everyone, please note that voting is restricted to the Member Society Permanent Representatives and Replacement Representatives in the absence of the former.
Please email secretary@fems.org to confirm your attendance and receive joining instructions (if attending online) by 4 September.