2023 Master Thesis Award Final
Posted by Federation of European Materials Societies (FEMS) on 13 September 2023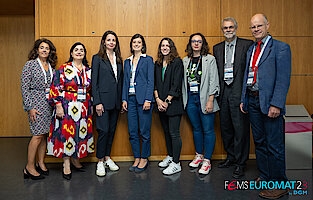 The 6th FEMS Master Thesis Award final took place on Wednesday 6 July during FEMS EUROMAT 2023
4 finalists from Italy, Greece, Spain and Portugal, all winners of their own national finals, gave a 10-minute presentation in from of a full audience on thier chosen topics ranging from jarosite-blast furnace sludges self-reducing briquettes and polyaniline thin films to protection of aluminium alloys and sustainable powders for energy deposition.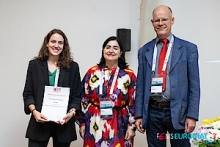 Lara Catarina Lopes Castanheira of SPM won first place for her presentation on The production of sustainable powders for direct energy deposition. On her win Lara said, 'I am humbled to be the winner of the FEMS Master Thesis Award and to compete among such exceptional research works from all the finalists. I am very grateful for the opportunity to share my work at the 2023 FEMS EUROMAT Conference and to be able to introduce an innovative and sustainable approach in material science'.
Professor Eric Le Bourhis, FEMS Immediate Past President and Chair of the judging panel said, 'I was very impressed by this year's FEMS Master Thesis finalists' level and achievements so far in their research. They certainly made the judges' decision very difficult. They are all winners in their own right and I do hope they join us in mentoring and championing future finalists in their own Member Society'.
Second place went to Ester Lope (SOCIEMAT) with her presentation on Active protection of aluminium alloys and third to Chrysanthi Gkili (HSSTCM) for Stability of the passive state of Ta in the presence of halides and the role of electron transfer processes and the growth of polyaniline thin films.
The FEMS Master Thesis Awards recognises the best Master Thesis on Materials Science and Engineering is presented annually by the FEMS Member Societies.
Details on the 2024 FEMS Master Thesis Award edition will be published on the website in October and the next final will be held during FEMS Junior EUROMAT 2024 in the UK.