FEMS appoints new Web & Social Media Executive
Posted by Federation of European Materials Societies (FEMS) on 4 May 2020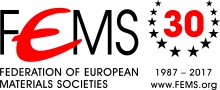 From the FEMS Management Committee
As of Monday 4 May, Ms Natalie Daniels has taken over the role of FEMS Web & Social Media Executive. On behalf of FEMS we would like to wish Natalie best of luck in this new role.
Following a great collaboration with FEMS, Dr Hugh Dunlop, will be stepping down. During his time, first as Executive Secretary and then as Communications Manager, Dr Dunlop was integral in setting up the FEMS website.
FEMS would like to thank Hugh for his commitment, dedication and contribution to the growth of the Federation since joining.