10th International Conference on High Temperature Capillarity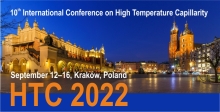 12 September 2022

to

16 September 2022
FEMS Member Society recommended event
The 10th International Conference on High Temperature Capillarity aims at issues related to surfaces and interfaces, wetting and capillarity in materials themselves as well as in materials processing and operating at elevated temperatures.
HTC2022 will provide a forum for the exchange of knowledge, experience and ideas on the latest developments and trends in the field of liquid metal engineering and liquid metal assisted processes as well as to promote cooperation between academia, research institutions and industry.
Exceptionally, HTC2022 will be held in parallel to TOFA 2022 Conference (http://tofa2022.pl) giving both communities an opportunity to get together and discuss scientific problems of mutual interest.
Important dates:
Student fee application – 15 May
Deadline for Abstracts – 31 May
Abstracts acceptance – 31 May
Early fee registration – 15 June
Late fee registration – after 15 June
Welcome reception party – 12 September
Contact information:
For questions concerning registration, accommodation & other organisational items, please contact registration-htc2022@imim.pl
Documents for download:
FEMS members - log in to view discount codes for FEMS events