FEMS Communication Award for Excellence in MSE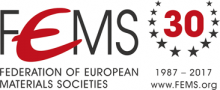 Join us for the FEMS Communication Award for Excellence in MSE taking place virtually on 15 July 10.00am-12.00pm, CET via Zoom.
The FEMS Communication Award for Excellence in Materials Science and Engineering was created in 2018. The Awards go to young European materials scientists (aged less than 40 at the time of nomination) who have distinguished themselves by the significance of their work and their ability to communicate effectively whether that be in Industry or Academia. The Awards encourage promising materials scientists and engineers to communicate on a materials topic within Europe acting as "ambassadors" for the materials community.
The finalists are as follows:
Manuel João de Moura Dias Mendes (SPM)
João André da Costa Tedim (SPM)
Register in advance for this meeting:
https://zoom.us/meeting/register/tJElcO-rqzwsEtySIhULrAhCluIrLKM1O3ju
After registering, you will receive a confirmation email containing information about joining the meeting.
FEMS members - log in to view discount codes for FEMS events