IFM 2024 - International Forgemasters Meeting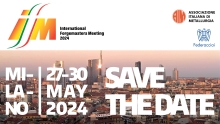 27 May 2024

to

30 May 2024
AIM and Federacciai proudly announce that the 22nd International Forgemasters Meeting will be held in Italy in 2024.
SAVE THE DATE! The appointment will be in Milan on 27-30 May 2024.
All involved in and interested in the area of open die forging and rolling are warmly invited to attend.
At IFM 2024 the most important and current issues affecting the sector will be discussed.
Experts in the fields of greatest interest will be attending and addressing such issues.
IFM is a unique forum to meet researchers, skilled technicians and decision makers; in other words IFM 2024 is a not to be missed event for the industry!
Topics
• Developments in the Global Heavy Forging Industry
• Power Generation Green Energy, such as Hydrogen Production, Coal Chemical Industry and Wind Power etc.
• Power Generation Nuclear (SMR, Fusion etc.)
• Other Product Developments in the Offshore Oil and Gas, Rolls, Power Generation, Aircraft, Aerospace, Shipbuilding and Heavy Machinery
• Decarbonisation in the Forging Industry including energy storage and environment. Use of hydrogen as fuel
• Green steel production
• Advances in Steelmaking, Forging, Heat Treatment and Machining
• Special Steels Development for forged components
• Simulation including equipment, processes and Industry 4.0
• Quality Management including Quality Control, Non- Destructive Testing and on-line measurement

Deadlines
Submission of abstracts: 30 June 2023
Information on acceptance: 13 October 2023
Submission of full papers and speakers registrarion: 15 December 2023

Call for papers
Prospective authors wishing to present papers are invited to submit a tentative title and an abstract of about 400 words (in English), specifying a maximum of two topics for each proposal, to the Organising Secretariat (aim@aimnet.it).
The abstract should provide sufficient information for a fair assessment and include the title of the paper, the author's names and contact details (address, telephone number and e-mail address). The name of the presenting author should be underlined. A poster session might be organized as well.
Two ways to submit papers will be available:
• fill in the online form
• send the requested information by e-mail to: aim@aimnet.it
Organising secretariat
aim@aimnet.it / T. +39 0276021132
FEMS members - log in to view discount codes for FEMS events