Joint event: Twenty-first Annual Conference YUCOMAT 2019 & Eleventh World Round Table Conference on Sintering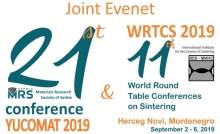 2 September 2019

to

6 September 2019
FEMS Member Society recommended event
YUCOMAT 2019
Materials science and engineering incorporate acquiring of knowledge on synthesis and processing of materials, their composition and structure, properties and behavior, functions and potentialities as well as application of that knowledge to various final products. Economic prosperity, life quality, and healthy environment are tightly connected with the improvements in the existing and the development of new materials and processing tec-hnologies. These improvements and development can contribute greatly to the national priorities: energy saving, environment and health protection, food, information and communication, infrastructure, transportation, etc.
The First Conference on materials science and engineering, including physics, physical chemistry, condensed matter chemistry, and technology in general, was held in September 1995, in Herceg Novi. An initiative to establish the Yugoslav Materials Research Society was born at the conference and, similar to other MR societies in the world, the programme was made and objectives determined. The Yugoslav Materials Research Society (Yu-MRS), a non-government and non-profit scientific association, was founded in 1997 to promote multidisciplinary goal-oriented research in materials science and engineering. The main task and objective of the Society is to encourage creativity in materials research and engineering to reach a harmonic coordination between achievements in this field in our country and analogous activities in the world with an aim to include our country into global international projects. Until 2003, Conferences were held every second year and then they grew into Annual Conferences traditionally held in Herceg Novi in September of every year. In 2007 Yu-MRS formed two new MRS: MRS-Serbia (official successor of Yu-MRS) and MRS-Montenegro (in founding). In 2008, MRS – Serbia became a member of FEMS (Federation of European Materials Societies).
Eleven World Round Table Conference on Sintering
The International Institute for the Science of Sintering (IISS) was established in 1968 in Belgrade, Yugoslavia, today the Republic of Serbia. It began as the International Team for Studying Sintering after the great initiative of late academician, Momcilo M. Ristic, who was its long-term General Secretary and President. Since 1973, the Team has changed its name to IISS and become an umbrella of the Serbian Academy of Sciences and Arts as well as other eminent institutions from membership countries. The IISS has thus far organized ten international conferences on sintering (World Round Table Conferences on Sintering, WRTCS): Herceg Novi, Yugoslavia, 1969, 1971, and 1973; Dubrovnik, Yugoslavia, 1977; Portoroz, Yugoslavia, 1981; Herceg Novi, Yugoslavia, 1985 and 1989; and Belgrade, Yugoslavia, 1998 and 2002. Since 1975, the IISS has organized seven International Topical Symposia on Sintering: Herceg Novi, Yugoslavia, 1975; Warsaw, Poland, 1979; New Delhi, India 1983; Tokyo, Japan, 1987; Vancouver, Canada, 1991; Haikou, P.R. China, 1995; and New Delhi, India, in 2000. After the final WRTCS was held in Belgrade in 2002, IISS activity has drastically decreased
With this Conference, we wish to re-establish the activity of the Institute, which had the important role in bringing scientists together from this field worldwide, having in mind that at the time, our country was the rare meeting place for the scientists from the East and scientists from the West.
Documents for download:
FEMS members - log in to view discount codes for FEMS events