TMS 2019
10 March 2019

to

14 March 2019
The TMS Annual Meeting & Exhibition brings together more than 4,000 engineers, scientists, business leaders, and other professionals in the minerals, metals, and materials fields for a comprehensive, cross-disciplinary exchange of technical knowledge.
TMS2019 will present more than 80 symposia planned by all five TMS technical divisions including the FEMS-TMS Joint Session on Critical Materials in Magnet Supply Chains. Advanced Magnetic Materials for Energy and Power Conversion Applications
In addition during TMS2019 there will be an International Round Table on Materials Criticality, coordinated by the ESM Foundation, Switzerland, and co-sponsored by FEMS:
Date: Thursday, March 14, 2019
​Location: Room 007C, Henry B. González Convention Center
The International Round Table on Materials Criticality (IRTC) is holding roundtable discussions at established international conferences around the world to gather input that will ultimately result in a Roadmap on Criticality, providing advice for authorities and policy makers world-wide. TMS will host the third installment of this roundtable as part of the REWAS 2019 symposium at the TMS 2019 Annual Meeting & Exhibition. The topic will be "How Does Industry Manage Criticality in Product Development?" All TMS2019 registrants are invited to attend this roundtable session and participate in the discussion.
The IRTC project aims to advance the research in criticality assessment, foster international exchange and education in the topic, identify common ground and differences, and raise awareness towards materials criticality, especially in industry. It will also lay the cornerstone for a long-lasting international network.
Documents for download: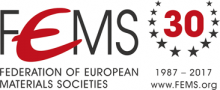 FEMS members - log in to view discount codes for FEMS events