TOFA 2022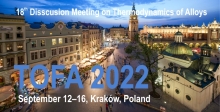 12 September 2022

to

16 September 2022
FEMS Member Society recommended event
The conference will be an opportunity for all generations to meet from researchers, scientists and students in the field of thermodynamics of alloys.
TOFA 2022 will be a single session conference based on invited lectures, selected oral presentations and poster session. Exceptionally in 2022, TOFA will be held in the same week in parallel to 10th High Temperature Capillarity Conference giving both communities an opportunity to meet.
Call for abstracts are now open!
TOFA 2022 conference topics include, but are not limited to:
• Experimental and theoretical thermodynamics – new results and techniques
• Computational thermodynamics
• Ab initio calculations
• Phase diagrams and phase equilibria
• Databases development
• Phase transformations and kinetics, solid state diffusion
• Thermodynamics of low-dimensional systems (surfaces and interfaces, nanomaterials)
• Thermochemistry, thermodynamic properties (liquids, solids, amorphous materials)
• Thermochemistry of metallurgical processes
• Process simulation using thermodynamics
• Industrial applications of thermodynamics
• Oxides (phase diagrams, corrosion)
• Thermodynamics of energy storage materials
• Thermodynamics of high entropy alloys
• Machine learning of thermodynamic properties of alloys
Important dates:
Submission of abstracts - from 15 February
Student fee application - 31 March
Deadline for abstracts – 15 May
Abstracts acceptance – 31 May
Early bird registration – 15 June
Get together and conference opening - 12 September
For any questions, contact tofa2022@imim.pl
FEMS members - log in to view discount codes for FEMS events