Abstracts invited for FEMS Junior EUROMAT 2020
Posted by Federation of European Materials Societies (FEMS), SOCIEMAT - Sociedad Española de Materiales on 22 June 2020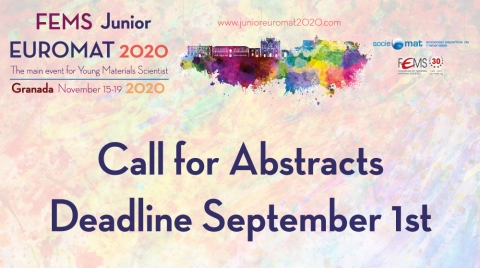 An event organised by materials societies for the materials community, FEMS Junior EUROMAT 2020 is the largest and main event focused on young materials scientists and engineers taking place on 15-19 November 2020 in Granada.
The event is organised by FEMS and has granted Sociedad Española de Materiales (SOCIEMAT) to host this event.
The committee are looking for abstracts on the following topics:
Functional Materials
Structural Materials
Design, Processing and Surface treatments
Manufacturing & Recycling
Materials for Energy, Transportation and Environment
Materials for Life Science and Health
Modelling and Characterisation
Alongside the scientific sessions devoted to the different materials related topics, tutorials and round tables on professional skills and career development will be also included as well as a packed social programme and several networking activities will be organised during the conference.
'We are working hard to make a safe, fruitful and joyful event. Join us to enjoy learning more about the Materials World' said Paloma Fernández Sánchez, Junior EUROMAT 2020 Congress President.
Abstracts are to be submitted by 1 September 2020 via the online form at www.junioreuromat2020.com/abstract-submission