Advanced Training Course "Nano-scale Materials"
Posted by DGM - Deutsche Gesellschaft für Materialkunde on 13 September 2018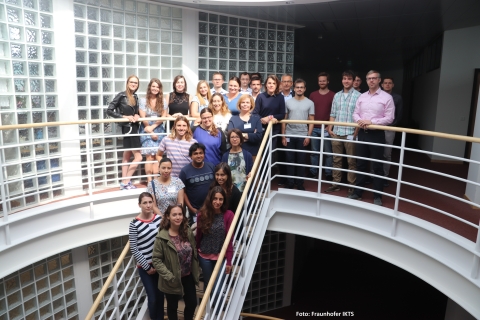 The Advanced Training Course "Nano-scale Materials" which took place from 27th to 29th August 2018 in Dresden was once again a great success.
Prof. Dr. Ehrenfried Zschech from the Fraunhofer Cluster Nanoanalytics (www.nanoanalysis.fraunhofer.de) in Dresden was once again able to welcome an international audience to this advanced training course. The training focuses at people who would like to expand their knowledge in the fields of nanoscale materials and nanoanalytics. The topics range from the basics of material science and material characterization to current nanotechnologies and challenges in industry.
The success of this advanced training is particularly evident in the numerous positive comments of the participants as for instance:
"All the presentations fitted very well with the scope of the workshop, so I would recommend it to anyone interested in this field. I particularly enjoyed one of the lab sessions: there were a range of options proposed, so it was possible to choose depending on one's area of interest. Many tricks of the trade were discussed with both an academic scientist and an engineer from the industry." Dr. Marianne Guichenuy, Quality Management Methods, Robert Bosch Semiconductor Manufacturing Dresden GmbH, Dresden, Germany
"The European Advanced Training Course "Nano-scale Materials" was well organized and very enriching and now I am feeling more confident on a vast number of techniques of nano-scale characterization. It was an opportunity to see the "bridge" between universities and companies, the mission of Fraunhofer was well demonstrated. On the other hand, with the dinners, you provided a really good environment and strong laughs!"
Adriana Costa, i3N/CENIMAT, Department of Materials Science from Faculty of Science and Technology, Universidade NOVA de Lisboa, Caparica, Portugal
The next training course has already been scheduled! Please make a reservation now for the date 27.-29. August 2019 or register now! You can find all information about this training course here.
In addition, the range of topics relating to nanoanalytical methods will also be discussed in the advanced training course "Nanoanalytik" from 20.-21. Mai 2019 in Dresden. All information on this advanced training course can be found here.
If you have any further questions, please do not hesitate to contact us at fortbildung@dgm.de.