Call for abstracts for FEMS EUROMAT
Posted by ASMET - The Austrian Society for Metallurgy and Materials on 24 November 2020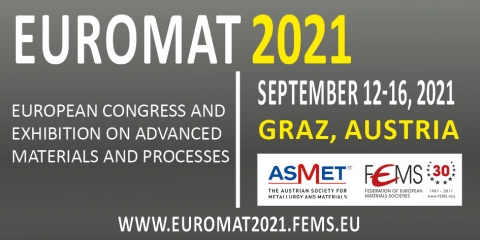 EUROMAT is the premier international congress in the field of materials science and technology in Europe. This conference will continue a successful series of material science conferences. The main objective is to foster knowledge transfer and exchange of experiences amongst delegates with academic and industrial backgrounds. EUROMAT will take place on 12–16 September 2021 in Graz, Austria.
The event is organised by FEMS and has granted the Austrian Society for Metallurgy and Materials (ASMET).
The Scientific committee are looking for abstracts on the following topics:
Functional Materials

Structural Materials

Processing

Characterisation and Modelling Energy
Biomaterials and Healthcare
Education, Strategy and Technology Transfer
Raw Materials
Alongside the scientific sessions devoted to the different materials related topics, tutorials and round tables on professional skills and career development will be also included as well as a packed social programme and several networking activities will be organised during the conference.
Abstracts are to be submitted by 31 January 2021 via the website at www.euromat2021.org