Contribute to improving the teaching of sustainability and critical materials
Posted by Federation of European Materials Societies (FEMS) on 15 August 2017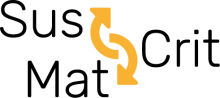 Educating the next generation of materials experts on how to sustainably manage critical raw materials is of vital importance. FEMS Associate Member ESM is co-ordinator of SusCritMat, an EU-funded collaborative project to develop teaching resources on topics related to critical raw materials, including life cycle approaches and circular economy.
How you can help:
We would appreciate your contributions in and online survey before October 15:
Survey for educators and students on available courses, teaching resources, and data usage (http://www.smartsurvey.co.uk/s/SusCritMatSurvey/)
Survey for industry on data usage (http://www.smartsurvey.co.uk/s/Survey4industrySDCRM/)
The survey results will contribute to the development of new teaching materials and courses available to all.
Further information and contact: www.esmfoundation.org
Alessandra Hool, CEO info@esmfoundation.org