Day two of FEMS EUROMAT draws to a close
Posted by Federation of European Materials Societies (FEMS) on 14 September 2021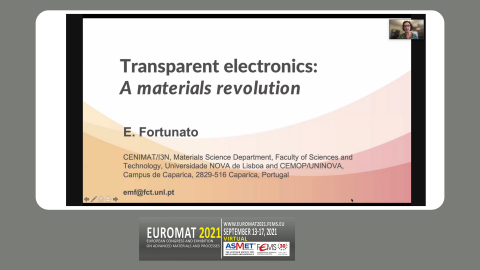 Day two of FEMS EUROMAT 2021 started with the plenary session and the presentation of FEMS Materials Innovation Prize awarded this year to Prof Elvira Fortunato from NOVA University Lisbon, Portugal.
Assistant Prof Anna Zervak, FEMS Vice President, opened the session and welcomed the delegates on behalf of FEMS, the Scientific Committee and ASMET. She underlined the significance of the prize, which is presented every two years within the frame of EUROMAT to a distinguished scientist or engineer to recognise outstanding contributions to technological development and innovation based on exceptional contributions in materials science and engineering.
The prize celebrates inventions and innovations that have favourable impact on quality of life of the individual as well as general welfare, sustainability, and environmental impact of the economy.
Professor Fortunato delivered an impressive talk on 'Transparent electronics: A materials revolution,' highlighting all recent trends and her contribution in the field.
The 'virtual' coffee break that follows provided the time frame to the delegates to arrange their own programme and attend one of the several parallel sessions that fits more with their research interests. Fruitful discussions were held both online during the presentations as well as by using the 'Meet & Mingle' function.
Sessions after lunch started with the second plenary talk of the day given by Dr Lore Thijs on 'Metal Additive Manufacturing, from a scientific to an industrial point of view.' Dr Frans Vos, FEMS honorary treasurer introduced Dr Lore Thijs to the audience saying that FEMS creates links to the industrial sector, as besides her academic background she is now working for the industry in additive manufacturing.
Day two was successfully concluded with the afternoon parallel sessions, all of which attracted a number of panelists and attendees.
Symposium organisers worked in close collaboration with the Scientific Committee have made an excellent job in the topics selection, which attracted well-known and distinguished materials scientists and engineers both as delegates and presenters. We are grateful for their work that keeps FEMS EUROMAT as the premium materials conference in EUROPE.
We are thankful to all delegates for their active participation to the virtual EUROMAT 2021 conference and look forward to another action-packed day tomorrow.
Anna Zervaki, FEMS Vice President