EUROMAT call for abstracts deadline extended
Posted by ASMET - The Austrian Society for Metallurgy and Materials, Federation of European Materials Societies (FEMS) on 1 February 2021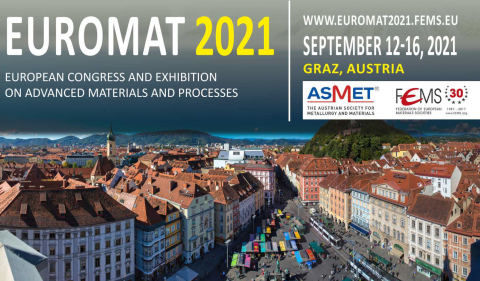 Be a part of EUROMAT 2021. Call for abstracts deadline has now been extended until 28 February 2021.
The EUROPEAN CONGRESS AND EXHIBITION ON ADVANCED MATERIALS AND PROCESSES (EUROMAT) will be held 12-16 September 2021 in Graz, Austria.
EUROMAT 2021 will take place physically or virtual depending on regulations concerning COVID-19.

EUROMAT is the premier international congress in the field of materials science and technology in Europe. This conference will continue a successful series of material science conferences. The main objective is to foster knowledge transfer and exchange of experiences amongst delegates with academic and industrial backgrounds.

AREAS
A Functional Materials
B Structural Materials
C Processing
D Characterization and Modelling
E Energy
F Biomaterials
G Education, Strategy and Technology Transfer
H Materials for Circularity and Sustainability

All detailed information, like the different symposia of each area can be found via the EUROMAT website at https://www.euromat2021.org/symposia-structure-and-organizers/

We are looking forward to welcoming you in Graz!