Flore Villaret tells us about her experience on receiving the FEMS European Master Thesis 3rd Prize Award
Posted by SF2M - Société Française de Métallurgie et des Matériaux on 5 October 2018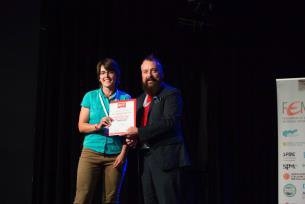 Flore Villaret's MSC thesis on "2D grain growth modeling in ODS steel with different full field approaches" won 3rd prize at the FEMS European MSc awards ceremony, Budapest, July 2018
Flore gives us her experience of the event:
"Representing the French Materials and Metallurgy Society (SF2M) for the Master Thesis Award during Junior EUROMAT in Budapest was a rich experience for me .
It gave me the opportunity to share and discuss my master's thesis work with other researchers and opens new perspectives for me in this research subject.
Attending this conference, my first European conference, was also a chance to meet other young researchers working in the same field.
The rather relaxed atmosphere of the conference (organized in one of the most famous nightclub of Budapest) and the round tables were a great chance to discuss and ask questions to industrials and experienced researchers present during the week.
At the end of the meeting, I had some time to visit Budapest, the Hungarian capital, and its famous bars and thermal baths.
In conclusion, attending this european conference was a great human and scientific experience that I will repeat with pleasure! "
Flore Villaret obtained her MSc whilst at MINES ParisTech, PSL - Research University, CEMEF, France and is now working on a PhD thesis (CEA, Saclay / INSA Lyon) on "Development of compositionally graded parts through additive manufacturing"
For further information about the FEMS Masters Thesis awards, click here