Horizon Europe - the next research and innovation framework programme
Posted by Federation of European Materials Societies (FEMS) on 30 January 2020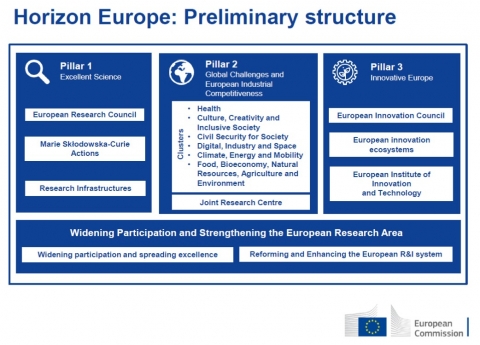 The latest developments of the next European R&I framework programme, Horizon Europe (2021-2027) are given on the EU Commission website:
The Commission's proposal for Horizon Europe is an ambitious €100 billion research and innovation programme to succeed Horizon 2020.
The European Parliament and the Council of the EU reached in March and April 2019 a provisional agreement on Horizon Europe. The European Parliament endorsed the provisional agreement on 17 April 2019.
Presentation outlining Horizon Europe in 23 languages.
Following the political agreement, the Commission has begun a strategic planning process.
The result of the process will be set out in a multiannual Strategic Plan to prepare the content in the work programmes and calls for proposal for the first 4 years of Horizon Europe.
The strategic planning process will focus in particular on the Global Challenges and European Industrial Competitiveness pillar of Horizon Europe. It will also cover the Widening Participation and Strengthening the European Research Area part of the programme as well as relevant activities in other pillars.
The process will identify, among other things
key areas for research and innovation support and their targeted impact
European partnerships
missions
areas of international cooperation
The strategic planning process includes a co-design process that took place over the summer and autumn 2019 in view of preparing the first Strategic Plan for Horizon Europe. The views and ideas of more than 7000 respondents were collected through web-based surveys and close to 4000 participants engaged in in-depth debates in the "European Research and Innovation Days", which took place in Brussels on 24 - 26 September 2019. The results of the co-design process are summarised in the document "Orientations towards the first Strategic Plan for Horizon Europe"