IOM3 UK to host FEMS Junior EUROMAT 2024
Posted by Federation of European Materials Societies (FEMS), IOM3 - Institute of Materials, Minerals & Mining on 23 October 2023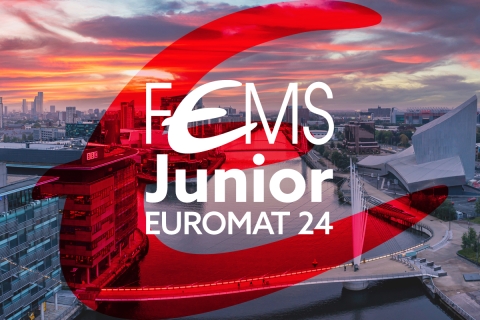 FEMS is proud to announce that the Institute of Materials, Minerals & Mining (IOM3) will be hosting FEMS Junior EUROMAT 2024 in the UK.
Manchester will welcome students and early career professionals from 15 to 18 July 2014.
'I am delighted that FEMS Junior EUROMAT will be in Manchester in July 2024. Having attended previously, I know the diverse range of people and experiences this brings together. These conferences help kick start early career researchers' networks and I look forward to seeing the outcomes of the conference grow over the following years' said Dr Kate Thornton, IOM3 President.
FEMS President, Asst Prof Anna Zervaki, 'We are thrilled with the next edition of Junior EUROMAT in Manchester in July 2024, organized by our esteemed member IOM3. Young scientists from all over the globe will gather to present their state-of-the-art research in materials, in a nice environment, continuing the excellent tradition established all previous years within FEMS Junior EUROMAT'.
The FEMS Junior EUROMAT will bring together students and early career researchers from Europe to present and attend a comprehensive programme covering:
Functional Materials
Structural Materials
Processing Technologies
Characterisation & Modelling
Materials for Sustainability
Submit your abstract by 5 January 2024 and find out more at junioreuromat2024.fems.eu