Joint winners awarded FEMS Communication Award for Excellence in MSE
Posted by Federation of European Materials Societies (FEMS) on 16 July 2020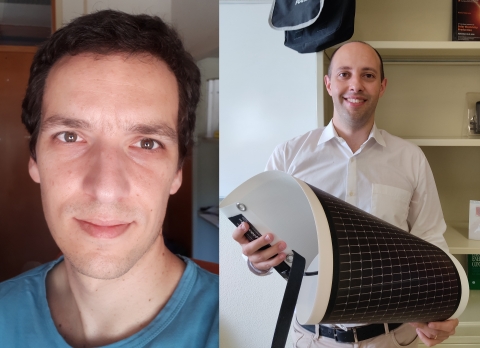 On 15 July 2020, the 3rd FEMS Communication Award for Excellence in Materials Science and Engineering took place virtually for the first time due to COVID-19.
The FEMS Communication Award for Excellence in Materials Science and Engineering was created in 2018. The awards go to young European materials scientists (aged less than 40 at the time of nomination) who have distinguished themselves by the significance of their work and their ability to communicate effectively whether that be in industry or academia.
The two finalists were both awarded as judges felt both presentations were of a very high standard and demonstrated how fantastic science can be.
Congratulations to Manuel João de Moura Dias Mendes (SPM) and João André da Costa Tedim (SPM) for their presentations. Speaking about winning, João said, 'I am truly grateful for this award. On one hand it reflects the quality of the research done in our group and our capacity to communicate and engage different audiences. On the other hand, it is a great responsibility as we must continue trying to reach young generations, showing them the relevance of materials in our society.'
Joint winner Manuel adds, 'Raising interest towards science is as important as advancing it. On behalf of all the team at CENIMAT-UNINOVA, I thank FEMS for this award which is an invaluable recognition to our research in solar energy and photonics, as well as a to the dissemination and public engagement events that we have so passionately been promoting for many years.'
The Awards encourage promising materials scientists and engineers to communicate on a materials topic within Europe acting as "ambassadors" for the materials community.
Thanks to the judges Prof Eric Le Bourhis, President of FEMS, Anna Zervaki, Vice President of FEMS, Paloma Fernández-Sánchez, Immediate Past President of FEMS, Gerhard Hackl, President of the Austrian Materials Society (ASMET) and Paula M Vilarinho, Executive Committee member of FEMS and member of the Portuguese Materials Society (SPM).
To find out more about the competition, visit the award homepage.
Press enquiries:
Natalie Daniels
Web and Social Media Executive
Email: communications@fems.org
FEMS Executive Secretary:
Efi Fragkou
Executive Secretary
Email: efi.fragkou@iom3.org