Jonathan Cormier named FEMS/TMS 2018 International Scholar
Posted by Federation of European Materials Societies (FEMS) on 12 April 2018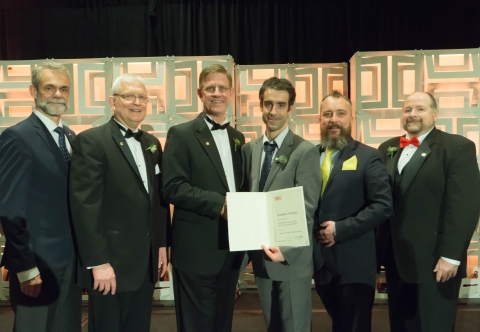 After receiving the FEMS Lecturer Award for Excellence in Materials Science and Engineering in 2016-2017 at Junior Euromat in Lausanne, Switzerland in July 2016, Jonathan Cormier was named FEMS/TMS 2018 International Scholar. He presented his view on "The challenges and future of Ni-based single crystal superalloys component design" during the last TMS Annual meeting, held in Phoenix, Arizona, from March 11 to March 15, within the special FEMS Keynote symposium on "Energy and Transportation from a European Materials perspective".
Jonathan said: "going at the TMS 2018 not only allowed me to make a presentation in a very unique symposium, but I also had the chance meet colleagues and friends from the Superalloys community and to develop new collaborations, especially in the field of additive manufacturing of high temperature materials. I would like to thank FEMS and TMS for giving me this unique opportunity of presenting my work in this special symposium of TMS 2018 Annual meeting, and, more personally, I want to thank Dr. Pedro Portella (Past FEMS president) for all his advice and continuous kindness."
Pictured at the TMS 2018 Awards Banquet are (from left to right): Pedro Portella, BAM Berlin & FEMS Past President; David DeYoung, TMS Immediate Past President; Kevin Hemker, TMS 2018 President; Jonathan Cormier; Brett Suddell, FEMS Immediate Past President; Jim Robinson, TMS Executive Director.