Junior EUROMAT 2018 announced
Posted by Federation of European Materials Societies (FEMS) on 19 July 2017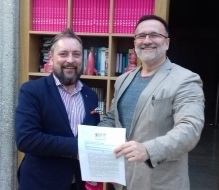 The date and venue for Junior EUROMAT 2018 has been announced - it will take place in Budapest, Hungary in July 2018.
The conference will be organised under the auspices of the Hungarian Society of Materials Science (MAE), Hungary.
The photograph shows FEMS President Brett Suddell (left) and MAE President George Kaptay (right) after signature of the Junior EUROMAT 2018 agreement in Budapest.