World Materials Day at the Portuguese Materials Society (SPM)
Posted by SPM - Sociedade Portuguesa de Materiais on 12 November 2018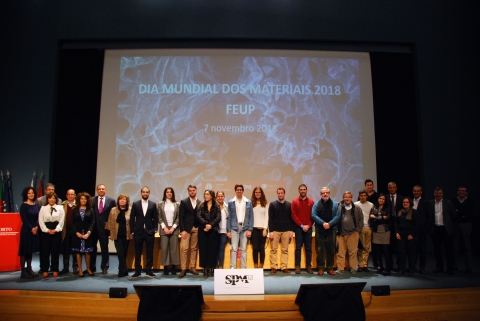 World Materials Day was celebrated on the 7 of November, in Portugal in an event organized by the SPM – Portugal Materials Society.
This year, the chosen place to hold this celebration was the Faculty of Engineering of Porto University (FEUP).
During the morning session we had the presentation of the thesis competing for Best Master Thesis in Materials Engineering award.
In the afternoon we had the presence of materials experts from two companies, that delivered talks on the following topics:
"It's all about materials, process and people" by Eng. Virgílio Oliveira – ZOLLERN & COMANDITA
"The use of Materials in an Industrial perspective" Eng. Jorge Almeida – FREZITE
The SPM 2018 award for the Best Master Thesis in Materials Engineering was delivered by Paula Vilarinho and Albano Cavaleiro from SPM Board, to Rafael Vieira from FEUP with title "Numerical Micromechanical Analysis on the Influence of Monocrystalline Parameters on the Elastic and Yielding Response of Polycrystalline Aggregates". Rafael Vieira will represent Portugal and SPM next year in EUROMAT2019, at FEMS award to Best European Master Thesis.