FEMS Master Thesis Award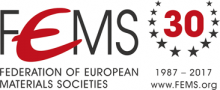 Join us for the FEMS Master Thesis Award taking place virtually on 14 July 10.00am-12.00pm CET via Zoom.
The FEMS Masters Thesis award is intended to recognize the best Masters Thesis on Materials Science and Engineering, presented in any Academic Institution from the country of any FEMS member Society. The FEMS National Societies may nominate one candidate per year. To be eligible the Masters Thesis should have been obtained up to a maximum of two academic years before the FEMS final takes place. The European final of the FEMS Masters Thesis Award usually takes place during FEMS Junior EUROMAT conference, however due to the conference being postponed until November 2020 it will now take place virtually.
The finalists are as follows:
Alexandra Faka (HMS) – Evaluation of Pitting Corrosion Behavior of 2707 Hyper-Duplex Stainless Steel
Hugo Roirand (SF2M) – Influence of ECAP (Equal Channel Angular Pressing) process on fatigue-corrosion properties of an aluminum alloy used in automotive wires
Javier Castillo Seoane (SOCIEMAT) – Synthesis and characterization of three-dimensional ITO nanoelectrodes
Georgios Chatzigiannakis (HSSTCM) – Laser-microstructured ZnO/Si heterojunction photodetectors
Ana Carina Lopes (SPM) – Study and evaluation of different combinations of virgin and processed PA material for Selective Laser Sintering technology
Register in advance for this meeting:
https://zoom.us/meeting/register/tJwtf-mtqj4qH9MxoZlh4ZK-z-3grrNSD-XU
After registering, you will receive a confirmation email containing information about joining the meeting.
Documents for download:
FEMS members - log in to view discount codes for FEMS events