FEMS Materials Innovation Medal 2017 awardee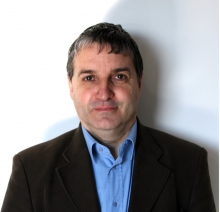 Dr. Thierry Chartier
Science des Procédés Céramiques et de Traitements de Surface (SPCTS), Limoges, FR
Thierry Chartier is Research Director and Head of the "Science of Ceramic Processes and Surface Treatments" CNRS Laboratory, Limoges, France. He received an engineers' degree from ENSCI, and an MSc in Ceramic Materials and Surface Treatments from the Univ. of Limoges (1982). He obtained his Ph.D. in 1985 concerning the relationship between elaboration-microstructure and properties of SiAlON. His main research interests are ceramic processing with the understanding of fundamental mechanisms that take place during materials transformations. His current research concerns additive manufacturing which opened new additive routes in ceramics and lead to the creation of two start-ups (Ceradrop and 3Dceram). These processing developments have applications in healthcare, SOFC and catalytic membranes and a common lab has been established between CNRS and Air Liquide to pursue this research.
T. Chartier is the author/co-author of 170 reviewed papers and 38 patents. He was chairman of the 13th conference of the ECerS held in Limoges in 2013. He is member of the World Academy of Ceramics, Fellow of the European Ceramic Society. He received the "Chaudron" award from SF2M (2011) and the JECS Trust Award (2015).
See award photo and the abtract of his lecture at EUROMAT 2017 on the news page.
His presentation can be downloaded here.