FEMS EUROMAT 2023 takes place in Frankfurt, Germany
Posted by Federation of European Materials Societies (FEMS) on 13 September 2023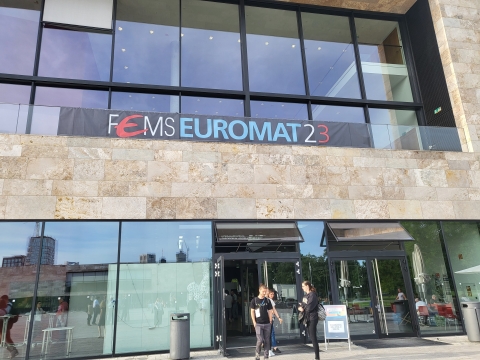 DGM hosts first in-person FEMS EUROMAT 2023 since 2019 at Goethe University in Frankfurt.
When Prof Ehrenfried Zschech (Conference Chair) stood in the balcony of the impressive Hörsaalzentrum foyer next to Prof Eric Le Bourhis (Conference co-Chair) and Dr Stefan Klein (DGM) to address delegates, organisers, sponsors and exhibitors at the welcome reception he stated that for the next 4 days, Frankfurt will be the European capital of materials. Indeed, it was.
During the first in-person FEMS EUROMAT since 2019, nearly 2.000 in-person and online delegates from 60 countries enjoyed 4 days of 9 plenary and 40 keynote lectures, daily poster sessions, over 1.000 lectures across 24 parallel sessions covering 8 areas (Functional Materials, Structural Materials, Processing, Characterisation & Modelling, Energy & Transportation, Materials for Healthcare, Education, Strategy & Technology Transfer and Materials for Circularity & Sustainability), panel discussions, the 2023 FEMS Master Thesis Award final and special events such as the Women's Lunch organised by the DGM Women's Network.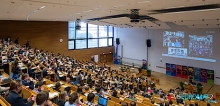 Plenary lectures were delivered by:
- Dr Mattias Maurer (Astronaut, German ESA)
- Prof Anke Weidenkaff (Director, Fraunhofer Research Institution for Materials & Resource Strategies IWKS | Professor, of Materials & Resources, TU Darmstadt)
- Prof Peter Fratzl (Director, Max Planck Institute of Colloids & Interfaces)
- Prof Phil Withers (Chief Scientist & Regius Professor of Materials | Director, Nationals Research Facility for Lab. CT, Henry Royce Institute)
- Prof Janina Molenda (Department of Hydrogen Energy, AGH University of Science & Technology)
- Prof Rodrigo Martins (Director, CEMOP/UNINOVA | President, European Academy of Sciences, EurASc | President, International Union of Materials Research Society, IUMRS)
- Dr-Ing Till Schneiders (Deutsche Edelstahlwerke Specialty Steel GmbH & CO KG)
Plenary lectures were also delivered by the 2023 FEMS Awards winners Prof Joao Mano (University of Aveiro) and Dr Constantinos Stoumpos (University of Crete).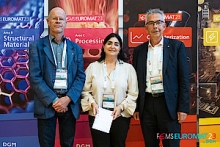 'FEMS EUROMAT 2023 was an unforgettable experience for all participants gathered in Frankfurt, including plenary speakers, committee members, delegates, exhibitors. Excellent talks showcasing recent advancements in the field of materials science and engineering, attracted massive attention from the audience from all over the globe. We are grateful to the DGM team for the excellent organization and we are looking forward to FEMS EUROMAT 2025 in Granada, Spain', said FEMS President, Asst Prof Anna Zervaki.
Apart from the congress dinner and party, delegates also had the opportunity to take part in a series of social events showcasing the best Frankfurt has to offer such as excursion to the Frankfurt Observatory, ride with Ebbelwei-Express and an organ concert in the impressive Kaiserdom.
Registered delegates may access and watch all presentations and view posters on the congress platform until 30 September.
FEMS EUROMAT 2023 will be held in Granada, Spain, organised by SOCIEMAT.